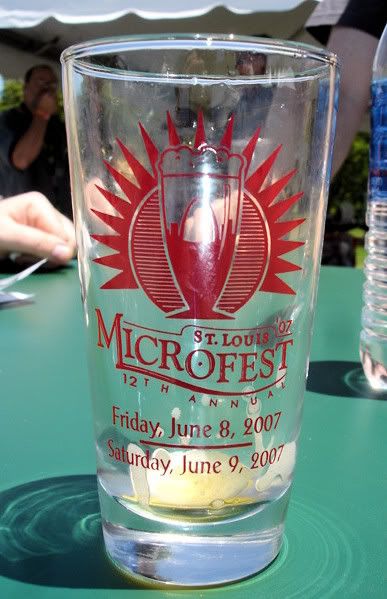 What do you get when you combine tents, trucks, a parking lot, wristbands that read "pit pass" on them, and … don't forget … lots and lots of beer? No, it's not a NASCAR event … not a monster truck rally … it's the

12th annual St. Louis Microfest

! A two-day beer festival at

Forest Park

featuring many local (and non-local) beers and breweries. I attended the event on Saturday and met up with some fellow beer aficionados to hoist a few sun-soaked samples. What follows is a brief recap of the event along with a nifty assortment of photos in slideshow format for those who didn't/couldn't attend (photos courtesy of my good friend Kevin).
The day was relatively nice, but a little on the hot side in the direct sun. The heat problem was compounded a bit by the fact that the event was held in the upper parking lot of the

Muny

. The concrete just radiated heat right through you. Not exactly the very best conditions for sampling beer, but we made the best of it we could. There were small tents shattered around the parking lot to house the various brewers/breweries represented at the festival. Some shade to be had there, if you "belly up" to the tables, but otherwise you better have lathered yourself up pretty good with some SPF50! I did … my Irish complexion would have taken on a lobster-like hue had I not …


All the usual suspects were represented from the "region," including

Schlafly's

,

O'Fallon

,

A-B

,

Alandale

, and

Morgan Street

.

Boulevard

was well represented as well. Several surprises, for me, were a handful of selections from breweries like

Bell's

,

Rogue

,

O'Dell's

,

Ommegang

and

Flying Dog

. Nothing I haven't had before, but it was nice to see them have a presence at the festival.

I got to meet Ray Hill of

Ray Hill Brewing

… a very nice guy and his enthusiasm for beer was apparent. As we talked, he was watching over a kettle full of wort for a porter he was brewing right on site. I sampled his "flagship" beer, an American Pilsner, and I can honestly say I was impressed. Well balanced and not the least hint of the skunky/sulfur-like characteristics that often plague mediocre pilsners. Granted, I just had a small sample but the obvious flaws would be apparent even in these less than ideal tasting conditions. I couldn't find 'em in this beer, and Ray has delivered a very professional, quality product. No wonder

A-B is working with Ray

to get his Pilsner out to the masses! Check out Ray's really nice-looking website
The VIP tent had a couple of nice surprises as well. On the Belgian side of things, I was able to sample from a 750ml bottle of
Brasserie Des Rocs
Grand Cru as well as one from
Koningshoeven/LaTrappe
. Both very good, but much sweeter than I would have thought they'd be. Granted, these aren't the beers you'd typically drink in hot weather, so my palate wasn't exactly "objective." Speaking of complex beers,
Boulevard
had a fairly impressive barrel-aged Quadrupel that is worth a mention. They really ought to bottle it, if they're not planning to do so already. A nice representation of one of my very favorite Belgian styles and the best Boulevard beer I've tried to date.

All in all, the Festival was nice. Lots of good beers to try (and more than a few not-so-good beers), but the food selection was a little limited. I think that better signage leading pedestrians in Forest Park to the event, along with relocating to a shaded grassy area would improve things considerably for next year. If done right, you can position tasting tents along a sidewalk and you're still safe from mud in the instance of rain. This was my first year, so I don't pretend to know what went into the event and what limitation they faced … so I'm not going to be too critical.
A good time ... mark your calendars for next year's event! Until then, continue to support your local breweries and always ... ... drink wisely!
SLIDESHOW I

, SLIDESHOW II